Get started today with GolfTEC for the best in golf instruction
Ready to play better golf? Your first step is a Swing Evaluation.
We recommend that all of our students begin by taking a Swing Evaluation. This valuable 60-minute session lets us see exactly what is happening with your current golf swing.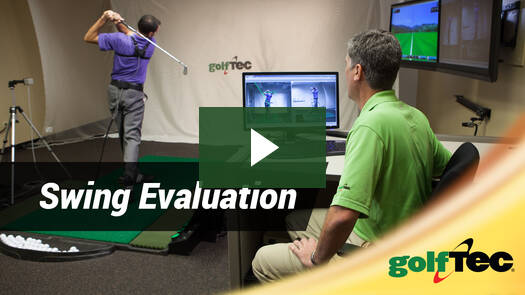 The GolfTEC Swing Evaluation delivers an exceptional value
Why? Because it generates not just an opinion, but an informative, fact-based diagnosis of your golf swing. Instead of just looking at your swing, we'll record it from two directions for slow motion and stop-action review. Simultaneously, with our Motion Measurement technology, we'll quantify the mechanics of the most important elements of your swing, such as degrees of shoulder turn and hip sway.


g-SWING Technology
With our proprietary g-SWING technology, only GolfTEC has the ability to combine video and motion measurement in real time. With numerical data and graphic tools, your Certified Personal Coach will analyze your swing, pointing out its strengths and weaknesses. When compared to tour averages, you'll clearly see what adjustments need to be made and to what degree.


A Game Plan for the improvement you want
The Swing Evaluation gives us a clear and measurable foundation for improving your game. Based on your Swing Evaluation and golf goals, your GolfTEC Coach can suggest the step-by-step Game Plan that will effectively build lasting changes for a smooth, dependable swing and lower scores.
Not available in all locations, see your Improvement Center for details. Limited time offer.
Talk to a Coach to Learn More!
Get your improvement started by filling out the form below. A local GolfTEC coach will get back to you to talk about your game and exactly how GolfTEC can help you improve.